Reduce the complexity of international payroll
You've successfully established an entity in your desired overseas country, but local employment regulations, payroll calculations, or tax filings have you puzzled?
How ThisWorks Can Assist:
We offer a high level of expertise, handling the complexities with minimal input required from you.
Our Commitment:
Our dedicated team manages and processes all essential monthly data for your employees, handles statutory filings to tax authorities, and guarantees compliance with all local regulations.
How does it work?
When working with us these are the services you can expect for us to handle.
Salary Management:
Tracking of all employee salaries.
Account for additional benefits, pension, and social security deductions
Guaranteed Timely Payment:
Employees are processed and paid on your chosen date each month.
Minimal obligation required from your end.
Tax Management:
Handling of all mandatory monthly and annual tax filings.
Annual tax return preparation for every employee.
Your Business Focus:
With our services, you can center your attention on core business activities, confident in the knowledge that payroll and tax matters are in expert hands.
Up-to-Date Compliance:
Our experienced team monitors changes in local labor laws, ensuring all your employees meet the latest legislative requirements.
Even if you already have an entity abroad, but need help with the wages of your personnel, we can help you on your way with our payroll services.
We will take care of the payroll records, make tax declarations and ensure that the right salaries are paid out on the right date. Feel free to contact us to discuss how we can help streamline your payroll processes.
Questions?
Do you have questions? Please contact Janneke.
Backoffice
Services we offer
Employer of record services
Hire staff abroad compliantly without the need to set up a foreign entity via our employer of record solutions.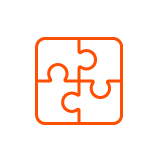 Payroll services
We can help you with paying out your staff members compliantly and in time. Experience combined with the best software in the market. We will get the job done.
Work permits
Do you need assistance in obtaining work permits for your international staff members? We have fast-track solutions as a sponsor at the local authorities and are able to get everything sorted within 4 weeks.
Entity setup
Definitely decided to move into a new country? Our legal experts can help you with setting up entities throughout Europe.
Value added services
Relocating your employees: Do they need a company car, a creditcard or housing? We will get it sorted.